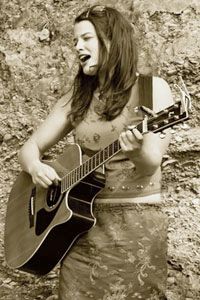 Photo by Nina Ruchirat   
"Every time I make music, I use absolutely everything I have ever learned from life, every emotion, every lesson, every story, every little part of who I am and what makes me and my voice unique. When I teach, I have to use everything as well, remembering from my experience the lessons that I can share to help each student become who they are as a singer, finding what their own voice is when they sing, and letting them know that they have permission to use it."
    
     Erin has over 25 year experience singing professionally. She has been taught by some of the best teachers and coaches in the Seattle area, including NY and Seattle based soprano, Sheila Wormer, internationally acclaimed mezzo-soprano, Lois White, Seattle baritone Michael Delos, the legendary jazz vocalists Jay Clayton, Beth Winter and Greta Matassa. Erin spent eight years singing with the Seattle Girls Choir (SGC), under the artistic direction of Dr. Jerome Wright and Stuart Hunt, where she received most of her early music training. She is one of the founding members of the women's choir, Ancora, based in Seattle.
 

    Erin is well versed in singing various eclectic styles of music, and has a very unique approach to teaching. She explores individually with each student, teaching many different styles, ranging from classical and opera, to jazz, music-theater, blues, folk, rock, bluegrass, pop, and she specializes in singing and teaching Celtic music. Erin is experienced in correct breathing techniques and vocal projection, without straining or constricting the voice. Because of a good ear and perfect relative pitch, she is able to help each student with intonation, or "staying in tune." She is gifted with bringing out each student's individual voice and natural style, while using solid, dependable technique that will help them become confident, well-rounded singers. Erin works with all levels of students: professionals, amateurs, children, teenagers, adults, and anybody with vocal problems or issues. Her studio is in downtown Snohomish, WA, and also a home studio in Sultan, WA.
Erin teaches mainly Voice, and specializes in combining teaching singing with playing an instrument. She teaches Voice, Music Theory, Guitar, Ukulele and Piano.
Pre-College Experience :
Seattle Girls Choir 1990-1998
Sultan HS Choir 1994-1996
Private Voice lessons 1992-1998
Private Guitar lessons 1994-1998
Private Piano lessons 1985-1993
Bachelor of Music Degree in Vocal Performance at Cornish College of the Arts 1998-2002
Private Teaching Studio in Seattle, WA 2003-2013  (10 years)
Private Teaching Studio in Leavenworth, WA 2013-2016 (3 years)
Private teaching Studio in Snohomish, WA 2016- Present
30 min lesson $30
45 min lesson $50
60 min lesson $60
Weekly 30 min lessons $120
Weekly 45 min lessons $200
Weekly 60 min lessons $240
Call or email for an appointment!
(206) 276-2797
erinmcnamee@yahoo.com