Erin McNamee - Singer : Guitarist : Music Teacher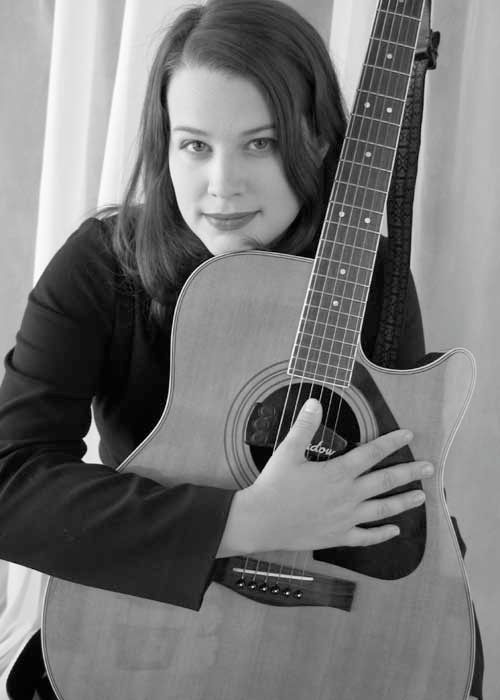 photo by Nina Ruchirat
     Erin McNamee was born and raised in Sultan WA, a small Cascade Mountain town in the Skykomish River Valley. She was a true singer from the time she could speak. Her mother will tell a story about a determined 5 year old who sang in preschool for her class, her favorite records strewn about every afternoon as she sang along with every word. Singing was Erin's destiny set in motion.
     Spending childhood and teenage years in regional choirs: Seattle Girls Choir, Seattle Opera and Symphony choruses, guitar lessons and of course; voice. As a young singer-songwriter, Erin became as a solo artist at the age of 16, singing songs and playing guitar at open mics and coffee shops, which she had to drive to Seattle to find back then. She started meeting her early music friends back in those days.     
     After high school, Erin moved to Seattle to a tiny studio apartment on Capitol Hill for music study at Cornish College of the Arts. It seemed to be a perfect fit. While schooling at Cornish, as her artistic interests varied greatly. She studied everything she could. As Erin says, "music school is where you ditch your TV and start consuming nothing but music… 24/7." The faculty at Cornish were amazing musicians, and emphatically guided the course for good listening, practice and jumping into ensembles.
     Erin was continued classical singing, Gregorian chant, Renaissance Baroque, Classical, Romantic through Modern era Opera, European and American cabaret music, art songs, French chansons, jazz, blues, and music theater. She was writing original songs during these years, though she says those songs often make her cringe. A very keen interest in the music of her heritage began, being of Irish & Scottish descent, she started learning and researching Celtic music and the Sean-nós tradition of singing. She planned a trip to Ireland and Scotland following graduation from Cornish, and started collecting songs in Gaelic. Delving into her Irish, Scottish, French-Canadian, Breton ancestry, she made it part of her studies at Cornish.     
     Erin graduated Suma Cum Laude from Cornish with a Music degree. After finishing college, Erin spent some time traveling in Ireland and Scotland from 2003-2005. Returning from travels abroad, Erin started her voice teaching practice in Seattle with her vocal studio "Siren Studios" in 2003. Her first teaching studio room was a 10 x 10 mirrored closet with a vintage piano and an armchair in a friend's apartment on Capitol Hill. From there, Siren Studios moved to Fremont neighborhood to a converted one-car garage apartment where Erin says her teaching career really began.

     Once Siren Studios was open for business in Fremont, Erin was able to leave her job as a shop girl at Seattle's Pike Place Market, as her teaching studio began to flourish. Years of training and a wide range of study is never a bad thing when you become a music teacher. Teaching songwriting was a natural next step  Erin quotes, "there is just so very much more that you can do as a singer, once you learn theory, how to accompany yourself, and start writing songs." She added, "I think I like helping others develop their songs even more than I like doing that for myself." Her mission is to help other people develop their gifts, to create a fulfilling artistic life.     
      In 2006, Erin met local Seattle recording engineer, Garey Shelton, and started recording her debut independent release, "Whores and Fishermen." She finished the 14 song album for release in September 2010. In her 8+ years working with Garey and recording with him as engineer and co-producer, so many wonderful Seattle musicians have played on her albums. She released a 2nd album "A Beer With St. Peter, A Night with St. Nick," in 2012, A very sweet tribute to her late Grandma Marie. She continues to record and network with Garey and other local musicians regularly.
She has started helping her students to access professional recording at Garey Shelton Productions, and has been working as producer on several projects. She is currently working on her 3rd studio album with Garey, and her favorite music friends.

     Siren Studios, Erin's vocal teaching studio has thrived from 2003 to present. She's moved it throughout the years the from Seattle, to Leavenworth and now Snohomish, WA where it has been since 2018. Erin performs weekly as a solo acoustic artist all over Central and Western Washington. She and her musician friends can often be seen in singing in local cafés, pubs breweries and wineries.